It's been a nail-biting few weeks for fans of The Great New York State Fair's cutest animals. We polled fairgoers via Twitter to help us decide who takes the title of King or Queen of Cute (aka The Fairest of Them All). We asked and you answered—the Piglet caught your eye and is now crowned King of Cute! Read below for a full recap of the competition. The defenders fought beak and hoof for the top honor.
Round 1: Adorable 8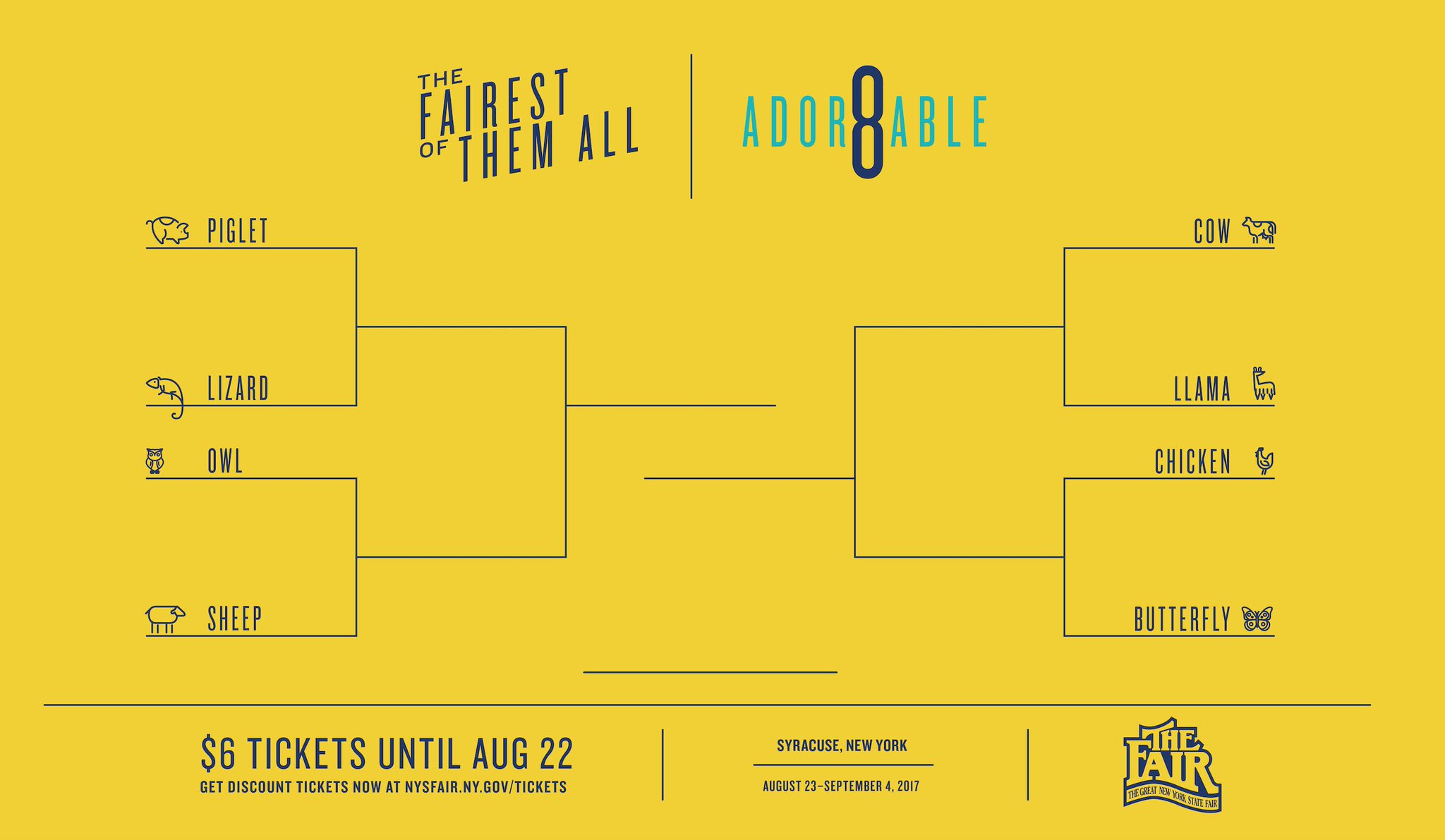 Piglet vs. Lizard: Round one proved to be an incredible showing for Piglet, who defeated Lizard with a whopping 73% of the vote. Lizard squeaked out 27%, which unfortunately was not enough to overtake Piggy. Don't worry, Lizzy is doing just fine, recovering from his defeat by basking under the warmth of a heat lamp with a few treats by his side.
Owl vs. Sheep: This matchup had everyone wondering whoooooo would make it to the second round. Owl just couldn't overtake Sheep, who had a strong showing with 60% of the vote. When asked about his victory, Sheep said "Baaaaaaaaaaaaaaaaaaaaaaaaa."
Cow vs. Llama: It was a race to the finish with one of our most contested matchups. Our polls were heating up in support for both Cow and Llama. In the end, Cow caught your eye, mooving ahead with 59% of the vote.
Chicken vs. Butterfly: Although Butterfly is a Monarch, she won't be crowned King or Queen this year. Chicken had an egg-ceptional showing with 70% of the votes, enough to battle against his cuddly opponent in the next round.
Round 2: Cuddly Quartet
Piglet vs. Sheep: In a surprising upset, Piglet beat out Sheep with an impressive 67% of the vote—sending Sheep packing. Back to the barn for our favorite ewe. You herd it here first!
Cow vs. Chicken: It was no contest between Cow and Chicken. Cow won with a beefy 65% of your votes, earning a spot in the Delightful Duo—aka the final round of The Fairest of Them All.
Round 3: King or Queen of Cute
Piglet vs. Cow: It was a battle for the ages, but Piglet squealed his way past Cow for the top prize with 61% of the votes!
If you'd like to see The King of Cute, winner of The Fairest of Them All, there's still time! The Great New York State Fair runs through Sept. 4. Come visit The Fairest of Them All, along with his 7 (and more!) cute and cuddly friends. Visit the Agriculture Schedules, Events and Exhibits page to know when they'll be strutting their stuff at the Fair.